Center of Hope Orange County
The Salvation Army Orange County has provided care and support to individuals and families in Orange County since 1887.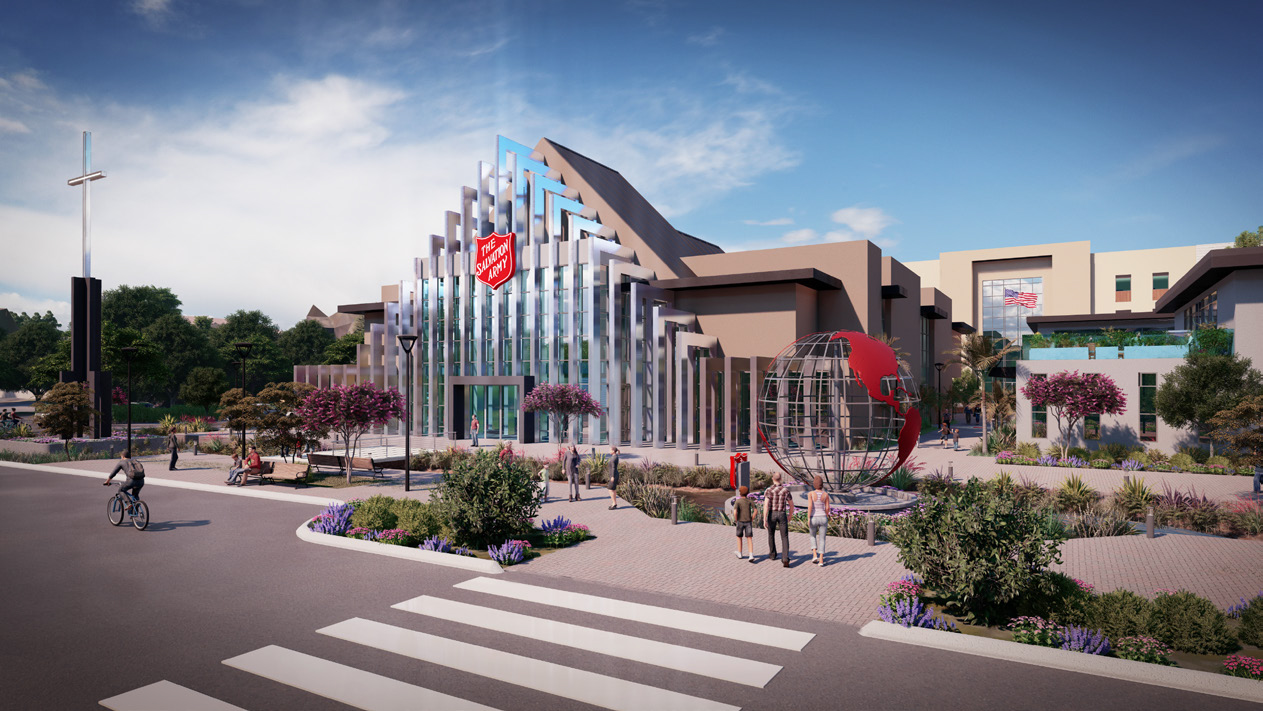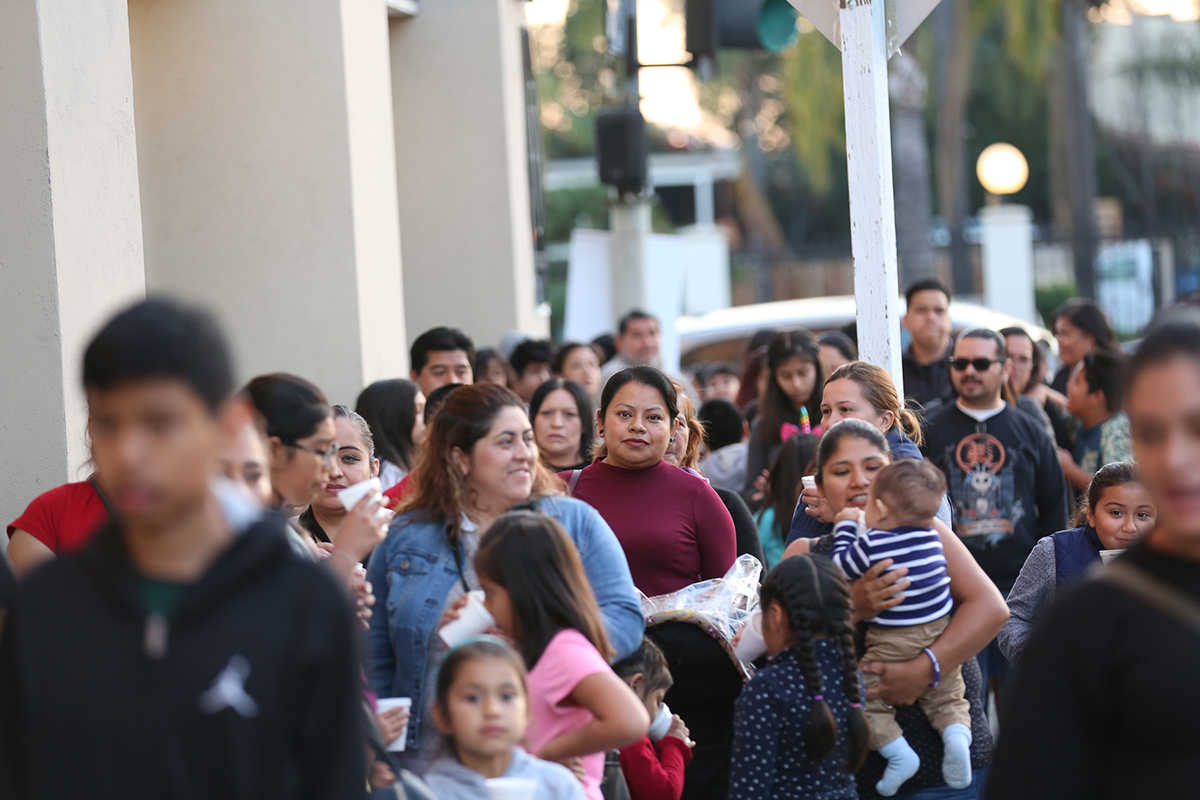 Orange County is being overwhelmed with the realities of our catastrophic homeless epidemic, and it is growing.  The Center of Hope is a comprehensive solution, modeling a public/private partnership that leverages a 325-bed low-barrier emergency shelter, 72-bed permanent supportive housing, onsite medical and dental care, alongside an award-winning 175-bed drug and alcohol rehabilitation center – all at one location – a campus of freedom, a very Center of Hope.
The campus, including four distinct facilities comprising over 190,000 square feet of program space on 6.9 acres, will transition thousands of homeless individuals annually from a life on the streets to a life of sustainable physical, emotional and spiritual health and ultimate autonomy.  The result will be transformed lives, safer neighborhoods and business districts, and the real prospect of an end to chronic homelessness in our community.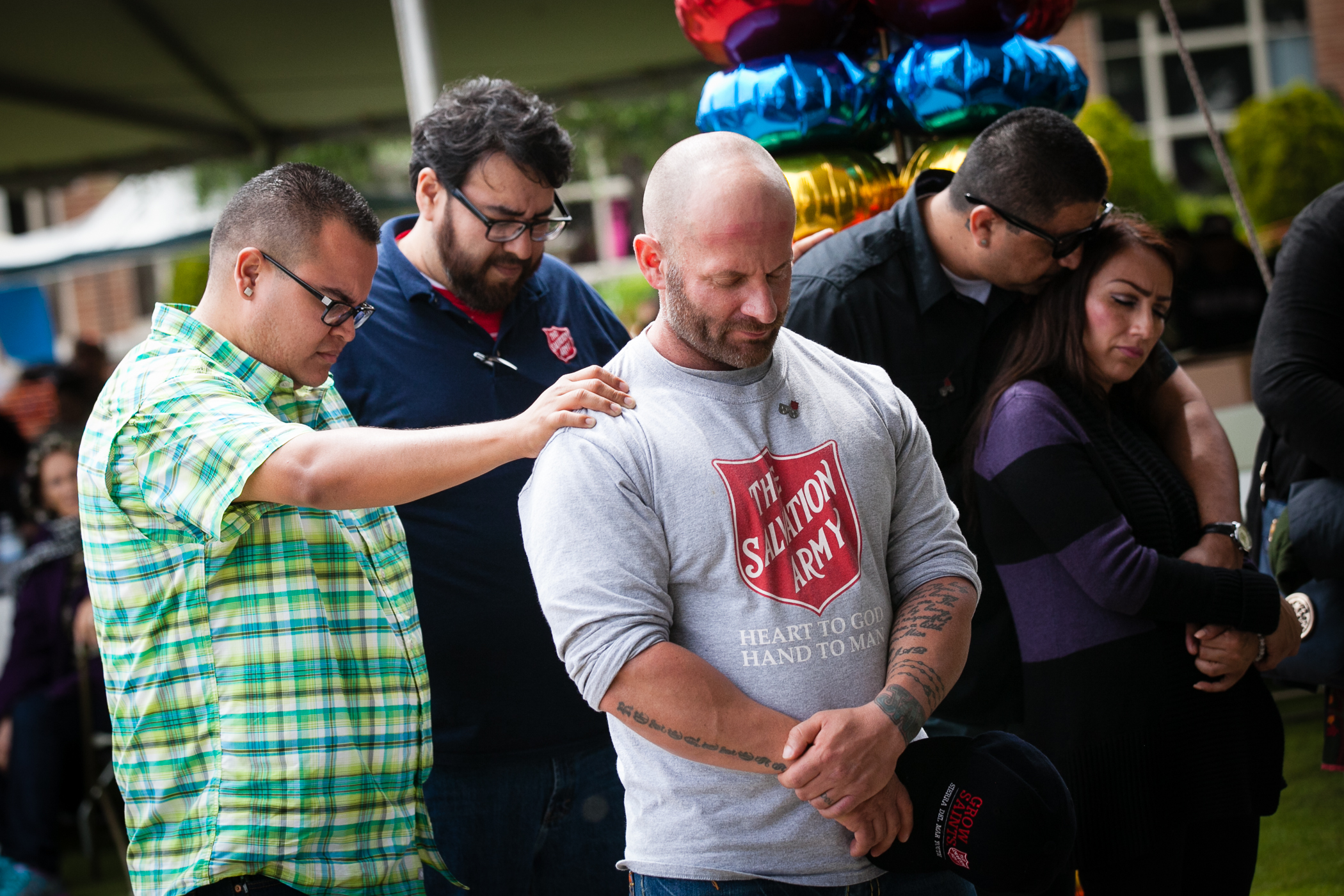 Center of Hope at a Glance
Despite our work and successes, there is so much more we can do to fight against homelessness in our county. The goal is not only to provide shelter for people living in the streets, but to provide comprehensive resources that make sustainable life change possible.  Together we can break the cycle and meet human need in God's name without discrimination.
The Center of Hope is an ambitious, $60 million response to a high-profile community homeless epidemic.  It is a 325-bed emergency and permanent supportive housing with medical and dental care facilities, a pet care center, and a 600-seat multi-purpose center that will also serve as a chapel.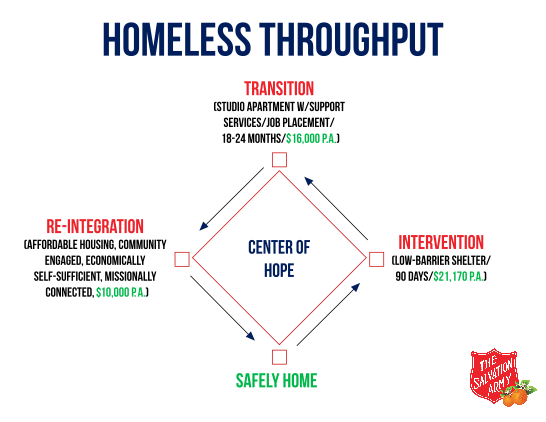 Comprehensive Approach
The Center of Hope will incorporate innovative programming to establish a "Homeless Throughput" model that transitions individuals from life on the streets to a life of physical, mental, emotional and spiritual stability. This will include complete "wrap-around services" and a Mental Health Crisis Intake Center, working in consultation with "Be Well OC."  The Center of Hope will establish a new standard of excellence in wrap-around care and homelessness services locally, nationally, and internationally.
The Salvation Army has already committed 155,000 square feet of combined program space on 6.8 acres at 1340 S. Lewis Street in Anaheim, CA.  The project will cost $60 million to develop, have a combined staff of over 95 full and part-time employees, and have an annual operating budget of $10.95 million, funded through the City of Anaheim and HUD voucher program.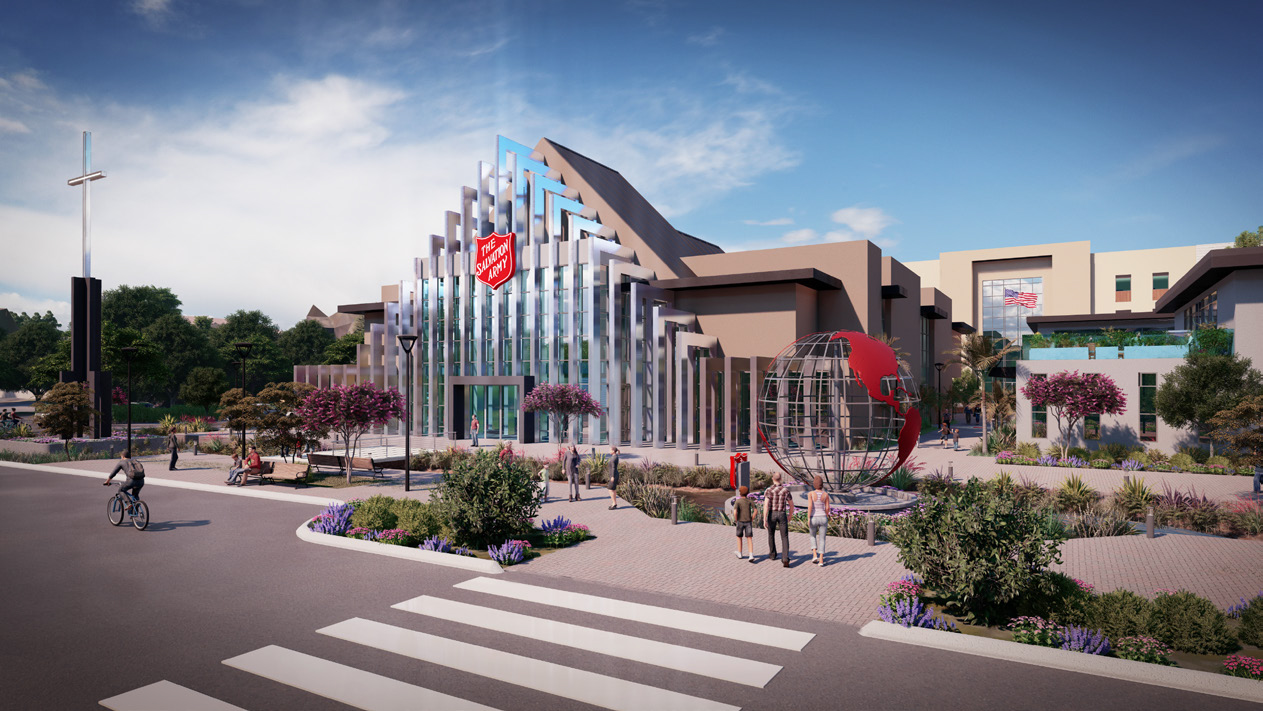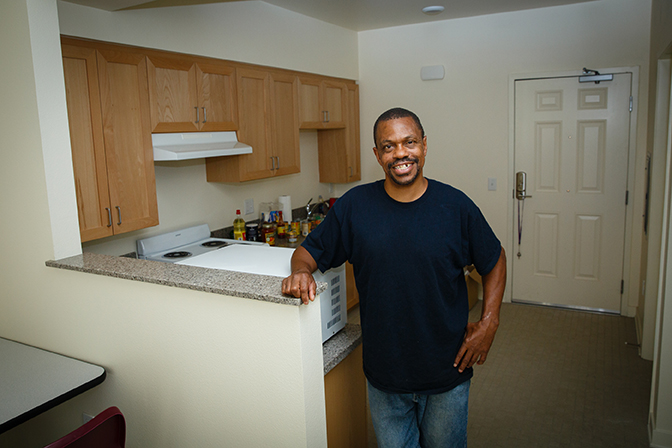 Permanent Supportive Housing
The Center of Hope's housing tower will be comprised of permanent supportive housing studio apartments for homeless individuals and one staff unit. Each furnished studio will be approximately 400 square feet and will include a small, equipped kitchen and a bathroom with sink, toilet, and shower. Additional apartment amenities will include a community room, social services offices, computer room, and laundry.
The permanent supportive housing will target homeless single adult men and women, veterans and nonveterans, at or below 30% or 40% of area median income. The Salvation Army is particularly qualified to develop and operate the PSH due to its extensive experience in serving the homeless, including through permanent supportive housing projects, most recently a 65 unit project opened last year in the City of Bell.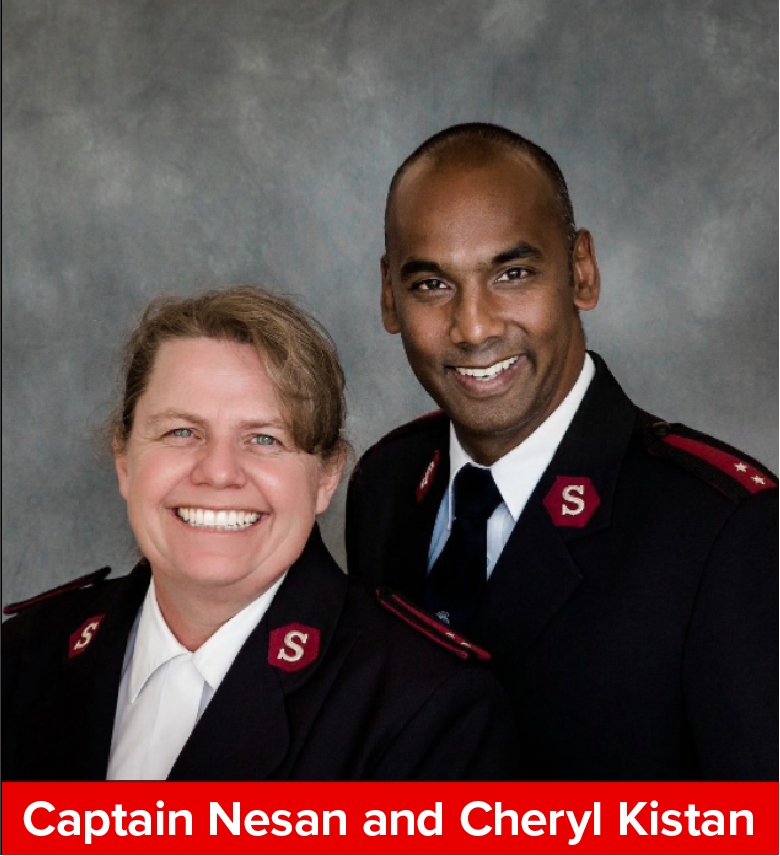 "A Letter from the Divisional Secretary for Orange County:
As an eight-year-old child moving from South Africa to Australia in the middle of a recession, we found ourselves homeless and without enough food to survive. This was a new experience for me, as our family had everything we needed before coming to our new country. Introduced to The Salvation Army they loved us unconditionally, providing us with food, clothes, and emotional and spiritual support. My life changed forever.
Motivated by our love for God and a passion to change lives, The Salvation Army Orange County has provided care and support to individuals and families since 1887. Orange County has a wealth of blessings and resources, yet surprisingly, we find people in our community who do not have family support, a good education or marketable job skills.
My wife and I have witnessed the enormous challenges facing many in our community. Our hearts break for the many homeless neighbors we find living on our streets, in their cars, on a family member's couch. The problem is complex and a "one-size-fits all" approach will not work, but by working together, we can alleviate poverty and bring Hope to the lives of thousands of people in Orange County.
We have bold plans and an exciting vision to greatly expand our programs and services to benefit all Orange County residents. We invite you to learn more about our plans, hear our vision for the future and join us as we provide hope to our community through the Center of Hope.
Warm Regards,
Captain Nesan Kistan
Challenges in Orange County
people experienced homelessness in 2019
Children live below the poverty line
Orange County's Population
More than 384,000 residents of Orange County live in poverty
of homeless are unsheltered
Orange County possesses one of the highest income inequality values in the Greater Los Angeles area
Thoughts from Community Members
"The Center of Hope's long-term vision is consistent with the City's housing first model and Trust's provide up to 2,700 PSH units throughout Orange County.  The City Council and the stakeholders who were instrumental in creating the Trust recognize the need for PSH units as a long-term solution to end homelessness.  To this end, as Mayor of the City of Anaheim, I respectfully request the Trust's assistance in working with the City and The Salvation Army to help secure funding for the Center of Hope.  I sincerely welcome in the opportunity to work with The Salvation Army and the Trust to make the Center of Hope a reality"
"Working together with others, The Salvation Army is a lead player in fighting to address homelessness in Orange County. The new Center of Hope will take many off the streets and bring them into direct contact with a loving God. What joy to be able to support such an effort!"
"There is a growing need for homeless shelters in Orange County.  The Salvation Army's Center of Hope will help fulfill that need. Not only will it provide food and shelter to those voluntarily entering the program, it will also provide spiritual and rehabilitative opportunities to aid in their recovery. Then, with continued support, they will have the tools to resume an active and productive life. It gives those who have lost their way a new chance. That is why I am supporting The Center of Hope." 
Track Record and Impact in Orange County
Throughout Orange County, The Salvation Army has been meeting needs and transforming lives since 1887.  The Salvation Army Orange County currently operates two homeless shelters, anti-trafficking programs, community centers, and family services in Orange County.
Salvation Army presence in the community
Anaheim Emergency Shelter
Housing for more than 300 adults experiencing homelessness. Our 325-bed shelter provides, case management, housing and job navigation, health services, and pet care.
Hospitality House
An emergency shelter serving Orange County homeless since 1964.
Thatiana's House
A safe home that serves survivors of Sex Trafficking In Orange County
Guest House
Serves foreign national trafficking survivors
The Red Shield Community Center
A recreation center serving the youth, family and senior populations of the communities in and around the city of Anaheim
Campaign Funding
The Salvation Army Orange County is currently embarking on a $20 million capital campaign to complete the build-out of the 6.9 acres for The Center of Hope Campus.
Funding confirmed to date:
-Orange County Housing Finance Trust: $2.5 million
-City of Anaheim: $2 million
-County of Orange: $655,000
-OC Neighborhood Works Foundation: $2 million ask has been officially made
-The 65 vouchers already secured have a 20 year value of $21.6 million.
-Committed philanthropically: $6.5 million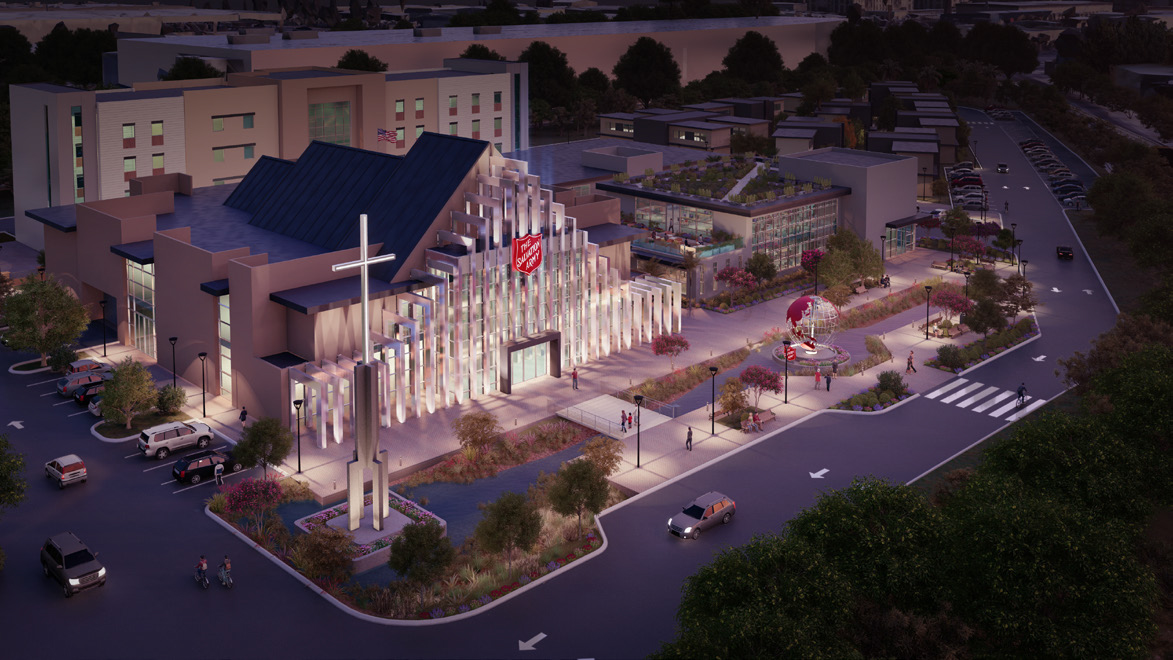 Make a Gift
Your generous gift may be pledged over several years. 

Get Involved
Host a gathering to help us reach out and engage new supporters.

Encourage Engagement
Be a community connector and help us reach out to other community leaders and stakeholders.